SIR JOHN KEYLING
(1607 - 1671)
SERJEANT-AT-LAW
---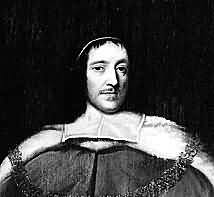 It is not known for certain why John Keyling (and the other Serjeants-at-Law) were at the Bury Assize for this trial. Records show that Hale was the only judge commissioned to ride the Norfolk Circuit in the Spring of 1662. It is possible that as the junior judge Keyling was appointed to hear the civil cases at the assize, or perhaps to act as a "co-adjudicator" with Hale. In such cases it was common practice for one judge to assist another in complex cases. It is possible, but probably unlikely, that Keyling was not there in any judicial capacity but in his own right as an interested lawyer.
John Keyling 54 years old at the time of the trial. He was born in Hereford in July 1607, the son of John Keyling, a barrister of the Inner Temple. He was created a MA at Oxford in 1621, and admitted a member of the Inner Temple in January 1632. In 1642 he was incarcerated in Windsor Castle for espousing the King's cause and remained a prisoner there until the restoration. Upon the King's return from exile in 1660 Keyling was one of the first batch of Serjeants-at Law to be appointed, the following year he was knighted. In the same month that he attended the Bury trial he was elected MP for Bedford and 15 months after the trial he was appointed a Judge of the King's Bench. On 21st November 1665 he became Lord Chief Justice of England.
For the final three years of his life Keyling was in ill health and in 1670 he was unable to conduct any legal business at all because of his failing health. He died of "lethargy" on 9th May 1671 and four days later he was buried in St. James' Church, Holborn.
Keyling married three times, firstly to Martha Botiler of Bidenham who died in 1660; he then married Mary Jesson of London and after her death in 1667 he married Elizabeth Bassett of Cornwall. He had four sons and four daughters.
Unlike Sir Matthew Hale, who had a reputation for fairness, diligence and gentleness, Keyling had the reputation for dispatching judicial business at a furious rate. He is described as "haughty and brutal, and he did not scruple to browbeat, fine and even imprison jurors" for which he was eventually summoned before a committee of the House of Commons in 1667. In 1661 he presided with four other judges at the trial of John Bunyan and gave him a very hard time. Some commentators say that Judge Hategood in "Pilgrim's Progress" is in fact a caricature of Keyling! In the same year as the witch trial he took part in the proceedings against Sir Henry Vane who portrays him as "a rabid, jeering antagonist, a fanatic whose whose conduct was unfeelingly harsh". Vane was executed for treaon in July 1662.
It is somewhat ironic then that despite his reputation as bombastic, cruel and self-opinionated, that Keyling was the only member of the judiciary who spoke up for Amy Denny and Rose Cullender at their trial . . . .
---